Another Tour de France, and another instalment of what is becoming one of the great rivalries of modern cycling: Jumbo-Visma vs UAE Emirates, Jonas Vingegaard vs Tadej Pogacar.
A 21-year-old Pogacar dramatically beat Jumbo's Primoz Roglic in 2020, then finished ahead of Vingegaard in 2021. So they ganged up on him last year and Vingegaard took his crown. After back-to-back triumphs, Pogacar was deposed and finally some weakness was exposed.
Pogacar did what anyone would do: he went away, worked on himself and came back with some bigger boys, namely Britain's Adam Yates, a support act and understudy in the form of his life coming into this Tour. Vingegaard, meanwhile, arrives as the champion and sole Jumbo leader, with no Roglic by his side. Roglic is resting after winning his first Giro d'Italia in May.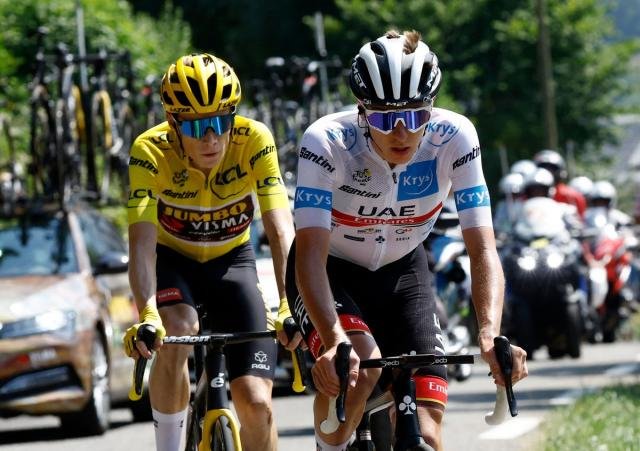 These changes in team personnel will alter the dynamics of the rivalry. Pogacar was helped impressively in the mountains by the American Brandon McNulty last year, but with McNulty taking time to recover from the Giro too, Yates is a more than adequate replacement who thrives on the hard climbs. Vingegaard may benefit from being Jumbo's outright leader but Roglic was a useful distraction when they brutally attacked and dismantled Pogacar on stage 11 last year – this time there is no foil, no sidekick, no wingman. Vingegaard has a phenomenally strong team around him, but ultimately Pogacar knows exactly who he has to beat, and that is an advantage.
What is so intriguing is their different strengths and styles. Oddly for a man brought up on the flat plains of Denmark, Vingegaard is in his element when the road steepens and disappears into the clouds. He has been peerless over the past two Tours in the Alps and Pyrenees, and showed ominous form when he convincingly won the Criterium du Dauphine earlier this month. "I think he made quite a statement there," Pogacar told Cycling News. "He showed he could win the race with almost one leg. He's already looking to be in super, super good shape. So now all eyes are on him, he's going to be the main character for the Tour."